In the late-eighties and very early-nineties, a number of Ronnie's friends signed affidavits. Most of these BS affidavits were introduced at Ronnie's 440 hearing in 1992 to support Ronnie's BS claims.
Here is Barry Springer admitting that he was simply "going along with a story"…
Here…Barry Springer talks about Chuck Tewksbury. Notice how Springer describes Tewksbury retracting his affidavit…and how Tewksbury stated that he never even read the statement he signed…

…if Chuck Tewksbury had written his own affidavit…why would he have needed to have read it? Maybe because someone else wrote it for him?
Here's part of a letter from Frank Davidge to Ronnie DeFeo…

…so now we also have Frank Davidge stating that he received an affidavit that was already prepared.
Here are parts of an affidavit that John Carswell wrote in which he retracted a previous affidavit…as well as part of a court document that references John Carswell...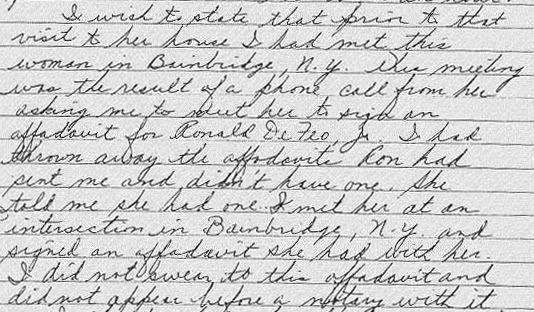 ...wow...yet ANOTHER affidavit that was prepared in advance!
I wonder who wrote all of these affidavits?
And I wonder how John Carwell's original affidavit was notarized when it was served upon the court...when he cleary states that he never appeared before a notary?
It sure makes you wonder if other affidavits had been prepared in advance and illegally notarized, eh?
In fact, here's an affidavit from William Davidge. It's interesting how this affidavit is the first time that his name ever appeared in regard to the DeFeo case. It's also interesting how he lived in Florida...yet his affidavit was notarized in New York...
Here's a great vid that deals with these BS affidavits...
http://www.youtube.com/watch?v=mSCIF7kGWnY