A Lie is Born
The first mention of "Geraldine DeFeo" was in a March 19, 1986 Newsday article written by Pulitzer Prize-winning reporter Bob Keeler...
Newsday Article
...during the interview with Keeler...Ronnie and Geraldine claimed that they had met in 1973...just before Thanksgiving. Geraldine and a friend had to decided to stop at a bar called The Ninth Circle...and Ronnie bought her a drink.
This led to dating...and Geraldine soon became pregnant, and gave birth to her and Ronnie's daughter (Stephanie) on August 21, 1974 in New Jersey (doing the math...Geraldine would have needed to have gotten pregnant IMMEDIATELY after meeting Ronnie). Once their daughter was born, Mr. DeFeo strongly encouraged Ronnie to marry Geraldine. The marriage allegedly took place on October 17, 1974 at the Garfield Grant Hotel in Long Branch, NJ.
Oddly enough...when Bob Keeler checked the New Jersey Registrar of Vital Statistics...there was no record of the alleged birth...nor was there any record of the alleged marriage (Geraldine had provided Keeler a copy of what she claimed was the marriage certificate). And when Keeler contacted the city magistrate whose name appeared on the certificate...the man (Thomas Baldino) stated that he had not performed any marriages after 1964.
Here is a document from the New Jersey Registrar of Vital Statistics that shows no marriage between Ronnie and Geraldine in 1974...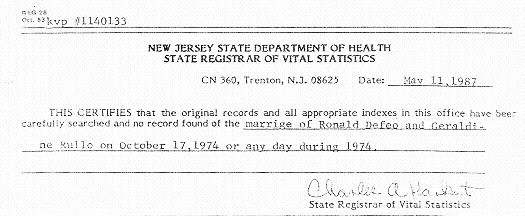 ...and here is a document that shows the daughter born to Geraldine on August 21, 1974 as having a Joseph Pisani as a father...
How could this be? Is it possible that Ronnie and/or Geraldine were liars...and capable of forgery?
Fraudulent Affidavits
Several years later...Ronnie filed a 440 motion. In an attempt to show that he and Geraldine had indeed been married prior to the murders (to support his ridiculous claim that he had been in the basement with a fictional brother-in-law when the murders took place)...Ronnie asked two of his old friends, Barry Springer and Charles Tewksbury, to sign affidavits that would establish him as having been married to Geraldine prior to the murders...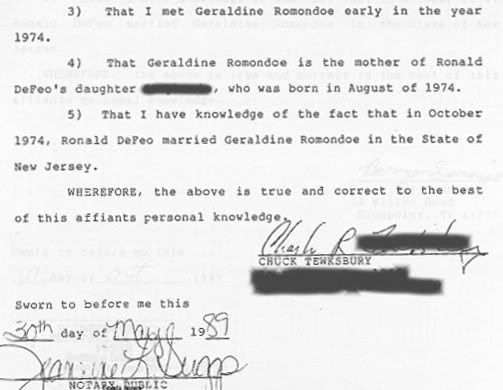 ...both Springer and Tewksbury would later recant their statements. And notice how both affidavits are worded exactly the same...almost as if they were prepared by someone else.
Here is Barry Springer admitting (in 2003) that he was simply "going along with a story"...
Here...Barry Springer talks about Chuck Tewksbury. Notice how Springer describes Tewksbury retracting his affidavit...and how Tewksbury stated that he never even read the statement he signed...


...if Chuck Tewksbury had written his own affidavit...why would he have needed to have read it? Maybe because someone else wrote it for him?
Here's part of a letter from Frank Davidge to Ronnie DeFeo...

...so now we also have Frank Davidge stating that he received an affidavit that was already prepared.
Here are parts of an affidavit that John Carswell wrote in which he retracted a previous affidavit...as well as part of a court document that references John Carswell...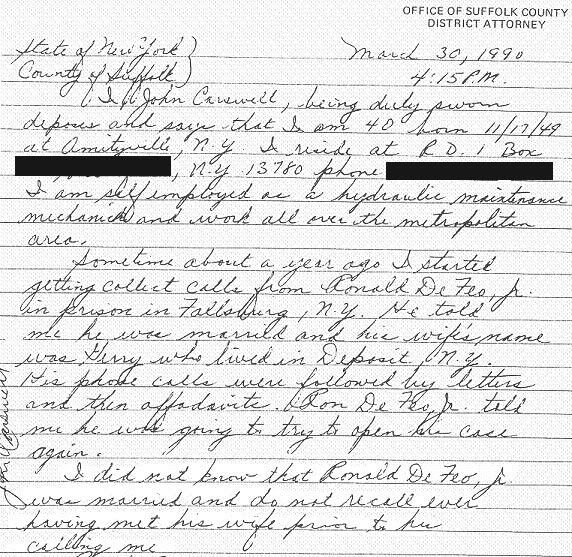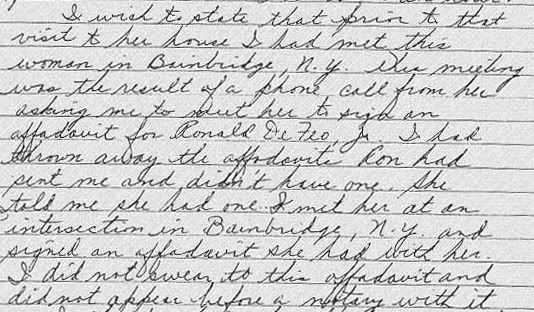 ...I wonder how John Carwell's original affidavit was notarized when it was served upon the court...when he clearly stated that he never appeared before a notary?
It sure makes you wonder if other affidavits had been prepared in advance and illegally notarized, eh?
This 1990 statement by Geraldine goes a long way in answering some of those questions...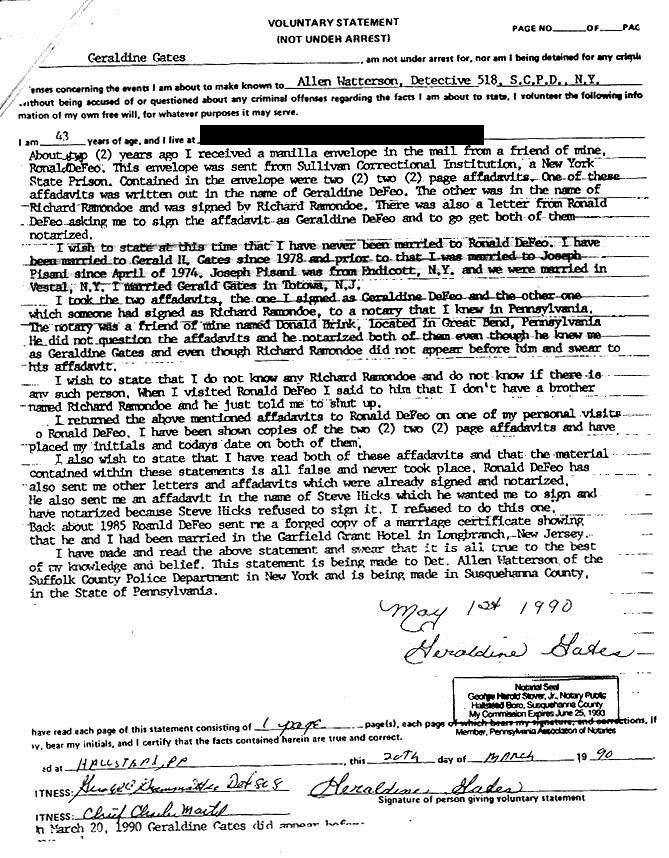 The Night the DeFeos Died
In 2002...a book came out titled The Night the DeFeos Died. The book was written by Ric Osuna...and was heavily based on the word of Geraldine.
According to this book...Ronnie and Geraldine had not met in November of 1973...but in May of 1969...when Ronnie was only 17.
And Geraldine didn't just happen to stop at The Ninth Circle with a friend...but she was performing there as a singer.
And they didn't get married in 1974...but in 1970.
And Mr. DeFeo didn't encourage the marriage...he was all of a sudden against it (so much so that Ronnie and Gerri had to elope).
From TNTDD...
After Butch's arraignment (November 15, 1974), he was transferred to the Suffolk County Jail. Finally out of the hands of the homicide squad, Geraldine got her first chance to see her husband since his incarceration. "He walked out, and I almost didn't recognize him," Geraldine said.
...and then a little later...
On her way out of the jail, Geraldine met up with Rocco DeFeo and Michael Brigante Sr. She recalled, "Immediately upon seeing me, Mike and Rocco pushed me into a phone booth. They told me I had to be careful and that I had to stop being Butch's wife. When I asked why, they told me their connections informed them that the cops had realized that it was an impossibility that Butch could have killed everyone alone. They had felt that a female had to have kept the kids quiet, so they were beginning to feel they needed to find an accomplice. Big Mike and Rocco did not want to risk the cops implicating me, so they told me I no longer existed as Butch's wife."
...if the idea was to hide the fact (from the police) that Geraldine was Ronnie's wife...wouldn't it have been a little late since she had JUST left the jail (and presumably identified herself to the police when she asked to see Ronnie)?
And if wouldn't have been the first time that Geraldine had identified herself to the police as Ronnie's wife...
Speeding the entire way, Geraldine drove the 90 miles in record time, and arrived close to midnight, just in time to see the body bags being carried out. "Words cannot describe the surreal atmosphere. It was like a dream. The people in the body bags were my family. I was so sure that Butch was dead," Geraldine said.

After joining the other relatives, Michael Brigante Sr. assured Geraldine that Butch was alive and that he had been taken in for questioning. Although she would later try to see her husband, the police refused access to him, reasoning that he had not finished giving his statement.
...wouldn't the police have wondered who she was and subsequently questioned her (as they did with the rest of Ronnie's relatives and friends)?
A little later...
According to sources, there was a meeting that took place at a race track between representatives of the Colombo and Genovese crime families. Since the Genovese family had the best hit men around, it is reported that the Colombos wanted to use one of the hit men to kill Butch. Although the request was denied, the Genovese family agreed to assist with getting rid of any trace that Butch and Geraldine had been married. After all, Geraldine's family and friends were concerned about her safety as much as Michael Brigante Sr. was. This alleged meeting fit perfectly with what my Suffolk County deep throat source told me. He said, "Money and power can make anything disappear."
...but if we go back to the beginning of TNTDD...
On November 17, 1974, three days after Butch DeFeo had reportedly confessed to killing his entire family, a memorial service was held for the six DeFeos at the Boyd Funeral Home in Deer Park. "Upon entering the chapel, you became weak at the knees from seeing the six wooden coffins in front of you," Geraldine DeFeo recalled.
...so Michael Brigante and Rocco DeFeo instructed Geraldine on November 15, 1974 that she could no longer exist as Ronnie's wife...but then two days later...she showed up at the memorial service (which would have been swarming with police officer and reporters)?
A little later...
Butch couldn't stand seeing me like that, so in 1977 he filed for divorce. No matter how much he still loved me, he wanted me to be free."

Because of his friendship with Carlo Gambino and his connection to the Colombos, not to mention Geraldine's ties to the Genovese family, Butch and Geraldine's marriage license and divorce papers miraculously disappeared.
...if Michael Brigante and Rocco DeFeo (with the assistance of the Colombo and Genovese crime families) had destroyed ALL TRACES of Ronnie's and Geraldine's marriage...why would there have been a need for a divorce?
That Silly Sheriff's ID Card
From TNTDD...
To help alleviate any concerns about her authenticity, she immediately showed me a sheriff's identification card once I arrived. Mrs. DeFeo claimed she had obtained the ID through fingerprinting and a valid marriage license. Even though the card seemed genuine, I still took it to the Cayuga County Sheriff's office, where it had been issued in 1985, to have it verified.

After I asked for a written verification of the card's legitimacy, the sheriff's clerk wrote, "The enclosed personal identification card is true and original from the Cayuga County Sheriff's Department, which was issued on July 16, 1985."

So was this a case of a woman marrying a convicted mass murderer while he was in prison for his notoriety? Not so. It was not until 1989 that a federal judge reversed a New York law prohibiting inmates with life sentences, like Butch DeFeo, the right to marry. Her ID card, on the other hand, was issued in 1985.
...if Michael Brigante and Rocco DeFeo (with the help of Carlo Gambino as well as the Colombo and Genovese crime families) had destroyed all traces of Ronnie's and Geraldine's marriage (not just once but TWICE)...how was Geraldine able to provide a valid marriage license?
For that matter...how was Geraldine able to provide Bob Keeler a marriage license in 1986?
Here's how Ronnie explains it (not that he's the most credible source)...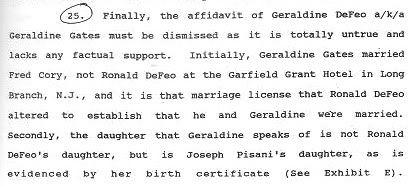 ...and Geraldine seems to concur...

If Bob Keeler was able to determine that the marriage license was fake...shouldn't the Cayuga County Sheriff's Department have been able to do the same?
Here's how Ronnie explains it...
...again...Ronnie isn't the most credible source...but you have to wonder...why did Geraldine bother with a sheriff's ID card? Why not a state ID card or a driver's license?
And why did Geraldine get the card from Cayuga County...two counties and ninety miles away from Broome County (where she lived at the time)...
And let's take a look at the card in question...

...why would she have listed Ronnie as the emergency contact? In TNTDD...it was written that Geraldine had two daughters before she met Ronnie (in 1969). So these daughters would have been adults (or close to it) in 1985. Yet she listed Ronnie as the emergency contact? Not her daughters...not some other relative...not a close friend or neighbor...but a man who was incarcerated? Yeah...some help he would have been in an emergency.
And what's with giving a phone number for Ronnie? Did he have a phone in his cell?
This certainly doesn't seem like a legitimate, functional identification card...but rather...a way for Geraldine to represent herself as someone she wasn't.
A Life of Crime
From TNTDD...
But in 1980, Geraldine found herself in legal troubles that eventually got her incarcerated for a period of 14 months. She claimed that Butch DeFeo had become so bitter after her departure from his life that he lashed out at her, setting her up to be prosecuted for passing bad checks.
...as if any reasonable person would believe that Ronnie could have orchestrated such a thing from prison.
And Geraldine's legal troubles most certainly started prior to 1980.
Here's an article from the March 24, 1979 edition of the Binghamton Sun...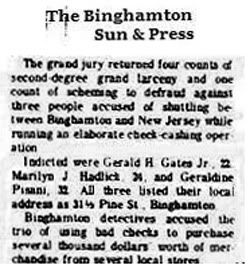 Here's a document from Geraldine's March 23, 1979 arraignment...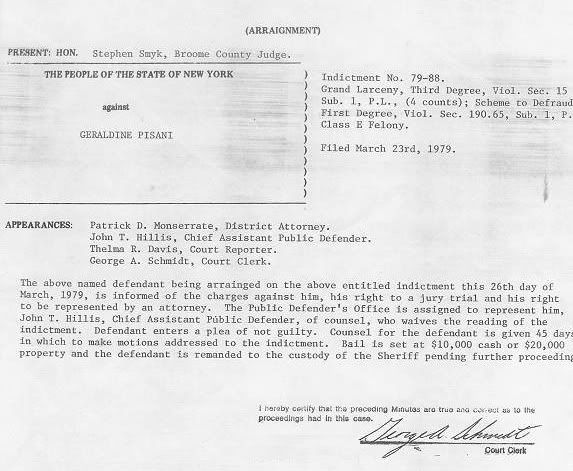 Here's a felony complaint stating that Geraldine stole a 1977 Chevy Nova on October 6, 1978...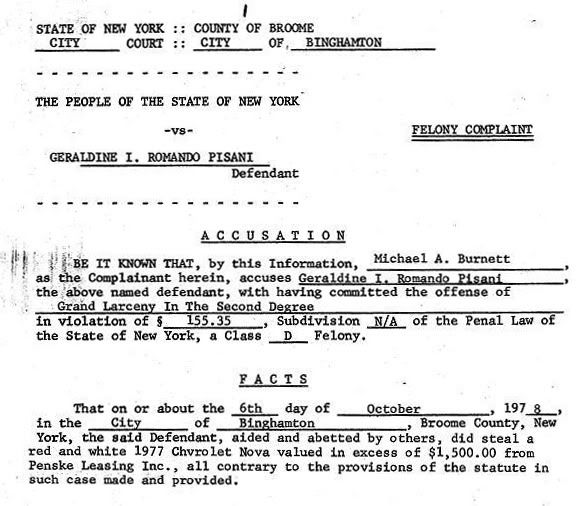 Here's a bench warrant that was issued after Geraldine violated the terms of her probation...
...so as you can see...it wasn't Ronnie who caused Geraldine to become incarcerated...it was Geraldine who caused Geraldine to become incarcerated.
Speaking of Ronnie...did you notice that the last name "DeFeo" did not appear on any of the documents? One of the last names that you DID see was "Gates"...and that's because Geraldine was married to (and is still married to) Gerald Gates.
Love and Marriage
Putting the pieces together...Geraldine's matrimonial history goes something like this...
In 1964, Geraldine married Fred Cory at the Garfield Grant Hotel in Long Branch, NJ
In 1974, Geraldine married Joseph Pisani in Vestal, NY (and had a child by him in the same year)
In 1978, Geraldine married Gerald Gates in Totowa, NJ
In 1985 (possibly a little earlier), Geraldine met Ronnie DeFeo
In 1989...on July 5...Geraldine married Ronnie DeFeo (even though she was still married to Gerald Gates)
Here is part of the divorce decision...

...and here is part of a statement that Geraldine gave to the Suffolk County Police Department...
In 1993...Ronnie and Geraldine were divorced
Friends of the Family
Linnea Nonnewitz was employed as the DeFeo housekeeper from December of 1969 until November of 1974...


...and here is an interesting letter in which Mrs. Nonnewitz states that she FIRST met Geraldine in 1985...
Grace Fagan was best friends with Dawn DeFeo...and she testified that she had known Dawn for three years...and had spent seven days a week at the DeFeo home...
William Weber: How long have you known the DeFeo family?

Grace Fagan: Three years.

William Weber: Did you spend much time at their home?

Grace Fagan: Yes, I did.

William Weber: Will you tell us approximately how much time you spent at their home?

Grace Fagan: Seven days a week.
...here is a portion of Grace's testimony where she describes Ronnie's 23rd birthday party of September 26, 1974...
William Weber: Do you recall the date of Butch's birthday?

Grace Fagan: Oh, yes.

William Weber: Were you at Butch's house on that day?

Grace Fagan: Yes, I was.

William Weber: Will you describe what, if anything, occurred on September 26, 1974?

Grace Fagan: We had a cake for him because it was his birthday. And –

William Weber: Who was present?

Grace Fagan: Besides me, just the family. His mother, his father, and the kids, and him. That's it. And we had a cake for him and we had his presents and all.
...very interesting. Wouldn't Geraldine have been there if she was indeed Ronnie's wife at the time? Wouldn't Ronnie have wanted to celebrate his birthday with his wife and month-old daughter?
An Affair With a Barmaid
From TNTDD...
But according to Geraldine, it was while she was pregnant that she considered leaving Butch for good over an affair he was having with a barmaid by the name of Mindy Weiss. It was Butch's belief, as it was his father's, that a wife should be a lady in the street, but a whore in bed. Because Geraldine was pregnant, Butch refused to have intercourse with his wife, so once again he strayed. In August 1974, Butch's daughter was born, so he ended the affair and reconciled with his wife by once again reaffirming his vows.
...so Mindy was just some barmaid who Ronnie was having an affair with?
And Ronnie stopped seeing Mindy after Stephanie was born in August?
Then why did Ronnie mention Mindy in his statement...
...and for that matter...why did Ronnie NOT mention Gerri in his statement? After all...the decision to make Gerri disappear didn't happen until a few days later.
In reality...Ronnie was involved with Mindy Weiss well after August of 1974.
From the trial...
William Weber: Were there any occasions, Mindy, where Ronnie visited with members of your family?

Mindy Weiss: Around September '74, Ronnie came to dinner with my family.
...and then...
William Weber: Do you recall an occasion where Ronnie came to your apartment one night and wanted you to go out with him?

Mindy Weiss: Yes.

William Weber: Would you describe what happened then? Well, first can we get the approximate time?

Mindy Weiss: September again, '74. He came to my house, and to the best of my recollection, it was late. He wanted to go out and I didn't want to go.
...and then...
William Weber: Mindy, since Ronnie was arrested for this, have you visited him at the Suffolk County Jail?

Mindy Weiss: Yes, sir.
Here's a portion of John Carwell's testimony...
William Weber: John, I call your attention to September of 1974. Do you recall an incident that occurred at the Intrepid Bar?

John Carswell: Yes, I do.

William Weber: And where is that bar located?

John Carswell: It is located in East Massapequa now. Used to be in West Amityville. They rezoned it.

Judge Stark: Where was it in September, '74?

John Carswell: West Amityville.

William Weber: Did you see Ronnie DeFeo Jr., at that time?

John Carswell: Yes, I did.

William Weber: At about what time was it?

John Carswell: I would say about 11 o'clock – 11, 12 o'clock in the evening.

William Weber: What did you observe concerning Ronnie?

John Carswell: Well, I just – on that day I just drove into the parking lot, and Ronnie was there already. And he was there with Mindy.
Additionally...Steve Hicks testified about going to the hospital with Ronnie, Charles Tewksbury, Barry Springer and Mindy Weiss the day that Marc DeFeo was hurt in a football game (in September of 1974).
During the hearing...Mindy Weiss (being questioned by Willam Weber) testified about calling the house on November 13th...and that Bobby Kelske had answered and told her that there was trouble (and that they would call her back).
She then drove over to the house...talked to a detective...and then went inside of the Ireland's house. She was later questioned by a Detective Grieco. After that...she said that Richard Wyssling approached her...identified himself as Ronnie's attorney...and gave her a business card. She tried calling him about 2:00 a.m. on the 14th...and also during the afternoon of the 14th.
At this point...Sullivan kept objecting...and Judge Stark kept sustaining the objections...so Weber dropped the line of questioning (i.e. he stopped asking Mindy questions about Wyssling).
Later...when Wyssling was on the stand...Weber brought it up again...and Sullivan wanted to know what the relevance was (Weber was trying to establish that Wyssling was acting as Ronnie's attorney in the hours following the discovery of the bodies)...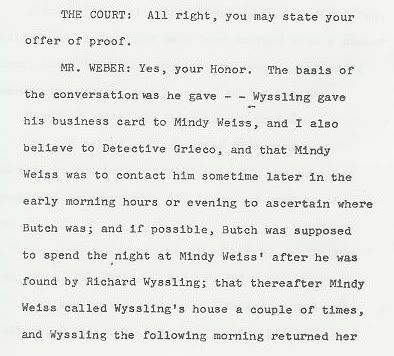 ...so Ronnie's mother, father, two brothers, and two sisters had just been murdered...but instead of seeking the comfort of his own wife and daughter after such a tragic event...he was going to spend the night with Mindy Weiss...some "barmaid" who he supposedly hadn't seen (according to Geraldine) since August???
Falsified Documents
Within this post...we've already seen instances where Geraldine had admitted how documents were forged, altered, etc.
So now let's take a look at this letter dated October 16, 1982...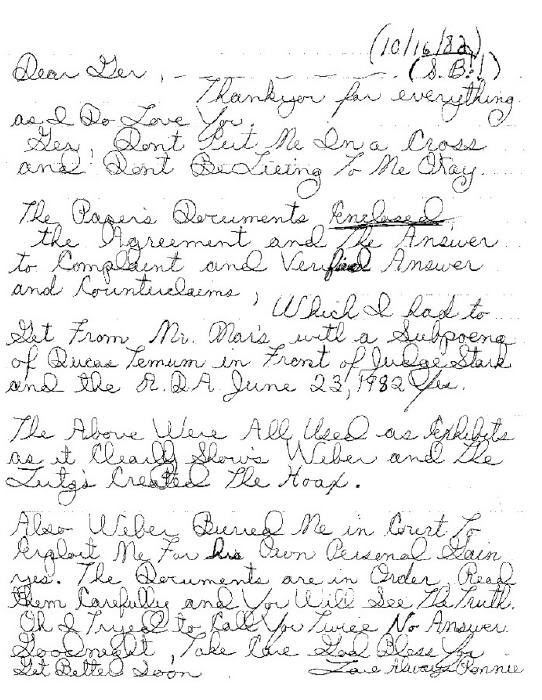 ...as you can see...Ronnie mentions Judge Stark, an Assistant District Attorney, William Weber (and how Weber attempted to profit from Ronnie's case)...and June 23, 1982.
How ironic is it that Ronnie had no motions or appeals pending in June of 1982...but he DID have a motion pending in 1992?
From TNTDD...
On June 22, 1992, Justice Stark, once again, presided over a preliminary hearing to determine if Butch's allegations held any merit. During the two days of testimony, Gerald Lotto, Butch's court appointed attorney for the proceedings, called numerous witnesses to testify, including Roger and Linnea Nonnewitz, William Weber, William Davidge, John Carswell, Steven Hicks, Gerard Sullivan, Charles Tewksbury and, of course, Butch.
...the hearing was indeed held on June 22 and June 23 of 1992.
Clearly the dates on the letter were changed in a pathetic attempt to show that Ronnie and Geraldine knew each other as far back as 1982.
Even if Geraldine was not the person who changed the dates...she still knowingly allowed Ric Osuna to show the letter on his
website
.